Lower Bounds (mb) on the Completeness Threshold
of the 1995 Bulletin by Seismic Region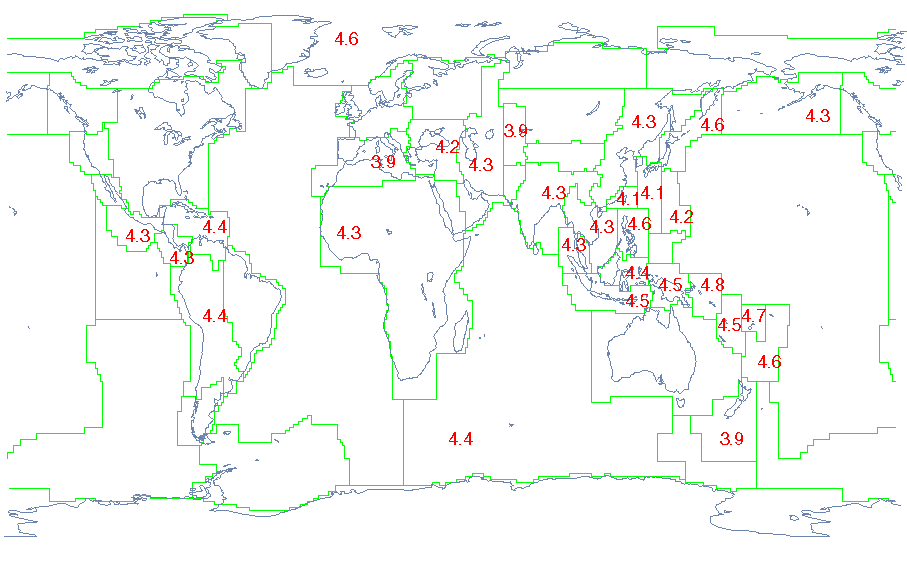 This map shows estimated lower bounds on completeness threshholds in Flinn-Engdahl regions with at least 100 shallow focus (h<=70 km) earthquakes for which the ISC computed mb. The threshold for completeness may be higher in some cases, but it seems unlikely that reasonable seismologist would examine magntitude/frequency relationships and conclude that the threshold was lower than stated here.
This table contains a link to a PostScript-format frequency/magnitude plot for each region and depth range with at least 1 ISC-computed body wave magnitude during 1995. In each figure, green symbols show the interval frequency and red symbols show the cumulative frequency.
In most cases, the peak of the interval frequency plot is a plausible lower bound of the completeness threshold. The lower bound on completeness is never less than the peak, but it is greater in some cases.
There are several reasons why these estimates might be in error.
Insufficient data

Slow rolloff

b > 1

Two populations